.
Mountain Queen Launched
The Mountain Queen Himalayas collection comes with meticulously selected assortments of finest organic tea from Nepal. All tea leaves are 100% hand-picked from the pollution-free, organic tea plantation in the Himalayas. Our collection of five popular blends – Black Gold Tea, Gold Tea, Premium Green Tea, White Tea and Oolong Tea – comes in two different packages to serve our clients' different lifestyles and needs: loose tea leaves in our iconic airtight tin box for serious daily tea drinkers and tea bags that are more suitable for those who like the convenience of brewing tea faster and easier. We also offer a bespoke gift set that you can pick and choose your two favorite blends in your choice of packages.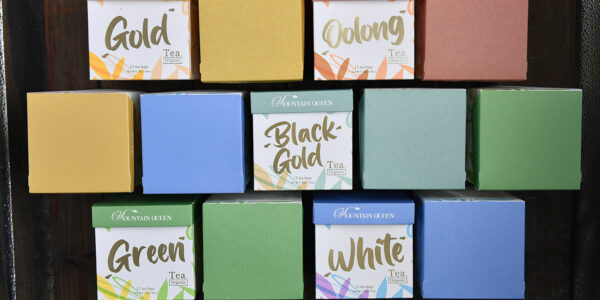 Mountain Queen Pop-up Store
Mountain Queen opened a pop-up store at K11 MUSEA in Tsim Sha Tsui by the Hong Kong Victoria Harbour during Chinese New Year in 2022. The store is designed with wood and forest green, making customers feel like they are in a tea garden. Our Black gold tea, golden tea, high-quality green tea, white tea and oolong tea are provided on site for customers to purchase. There is also a special tea experience, exploring the original natural tea aroma, touching the tea with your hands, feeling and understanding the uniqueness of each whole-leaf tea.
Mountain Queen collaborated with Le Cordon Bleu Chef and celebrity Jiang Yi CoCo launched a limited gift box set, including golden tea or white tea with sea salt caramel kernels or salt and pepper nuts, mellow tea flavor with crispy nuts, the taste is irresistible.